KT8 Jukebox -

Specifications & Features
Inbuilt 240V surge / spike protection.
Side power socket, no power lead to drag on the floor when you deliver the Jukebox
Hardened glass front screen. This fully protects the TFT touch Screen from damage and makes cleaning a breeze.
Fitted with a tough melamine outer shell with a plastic "T" mould for side protection, no paint to chip or scratch, no carpet to soak up spilt drinks. Just wipe over with a damp cloth to clean.
21.5" TFT wide 160 degree viewable angle Monitor, now standard on all models.
Super tough 21.5" Through Glass Industrial Grade Touch Screen. No Holes in front panel.
Steel perforated front speaker grill for tough speaker protection.
Built in urethane wheels for in house transportation.
The Karaoke words are on the same screen as the music chooser interface, or on a second Monitor
Both microphone inputs have auto gain control and digital echo.
Easy to use interface, onscreen HELP "thought bubbles" show the user everything there is to know.
Active Sorting Categories. The "NEW & RECENT" and "KARAOKE NEW" Categories only have the music & karaoke from this year and last year in it. As the years roll by, the music that was new when you bought the jukebox will not be new for ever... Our software keeps these Categories up to date at all times - automatically. Most of the jukes out there have to be done manually, how could this be??? The computer in the jukebox should make life easier not give you more work!
Fully Sprung and mass dampened PC & Hard Drive Mounting. No vibration to kill the Computer or Hard Drive.
Removable a Hard Drive Rack as standard.
200W RMS Digital Power amp (less heat generated and wider, smooth frequency response)
The KT8 Slpit is fitted with a 600W 15inch bass driver & a piezo horns as standard.
Bass Speaker is mounted high so it does not have to be angled upwards. Angled Bass speakers will only catch drink and food spills...
Audio line out and HDMI video output.
Long Life Ball bearing Cooling Fans.
No MP3's or WMA format files, Hi-Fi CD quality sound recordings are only used. All our music is done manually to get the best sound and constant volume levels.
All music is licensed through ARIA and APRA, documentation shown on request. All music & lyrics are done in house, this enables us to cater for special music and Karaoke request.
The best UPDATE CD available to date. "THE CHART TOPPER CD" gives you a CD that has only music tracks that have reached the Top 40 in the Australian Music Charts. As you might imagine, the number of good track of music vary from time to time, hence our Chart Topper CD that reflects this. Each CHART TOPPER CD has 15 music and 8 Karaoke tracks. Dud or filler tracks are the biggest complaint we hear over and over again about opposition Jukeboxes.
Current Top 40 Karaoke on each CHART TOPPER CD each month. You will be at least 2 months ahead of your competitors. (Unless they have a Stewart Jukebox). If you don't buy a Stewart Juke you will be out of date with your music and Karaoke. With the opposition you have to purchase
Music and Karaoke Lyric update CD's can be personally created to suit your hire requirements. The Up Date CD's minimum music quantity = 15, NO maximums. These extra songs are usually added to your CHART TOPPER CD.
The KT8 Split is a great option for those who need a light, easy to manage Jukebox that still looks like the full size unit. This unit can be carried up stairs when split by one person and then recombined to give the user a Jukebox which can also have a reverse facing screen and a forward face speaker. This is ideal for Karaoke events where the singer will cause feed back if he or she stands in front of the speaker with the volume turned up all the way.
Delivery Time
Usual turn around time on builds of the KT8 jukeboxes is around the 4 - 5 week mark. (our standard delivery time).
One of our main areas is customising the jukebox to give it your company's personal touch. The top area of the front acrylic screen is also reserved for your company's name and / or phone number, the background colour you are also free to choose. Also please feel free to mention such things as cabinet colour changes, switch / mic socket positioning etc…
On all models KT8 there is a fair bit of area for your advertising under the main screen as well as 12 flash or help screens which are activated when the touch screen buttons haven't been pressed for a pre-determined amount of time. Nothing like a bit of selfless promotion.
Colours
KT8's come in Black as standard, colours on request at an extra charge. Different colours are available on request but at a slightly higher cost.
Warranty
2 Year parts & labour as standard. (return to base) 24 / 7 help line. (Includes lifetime free software upgrades.) Service plans are available. Conditions apply for all warranties.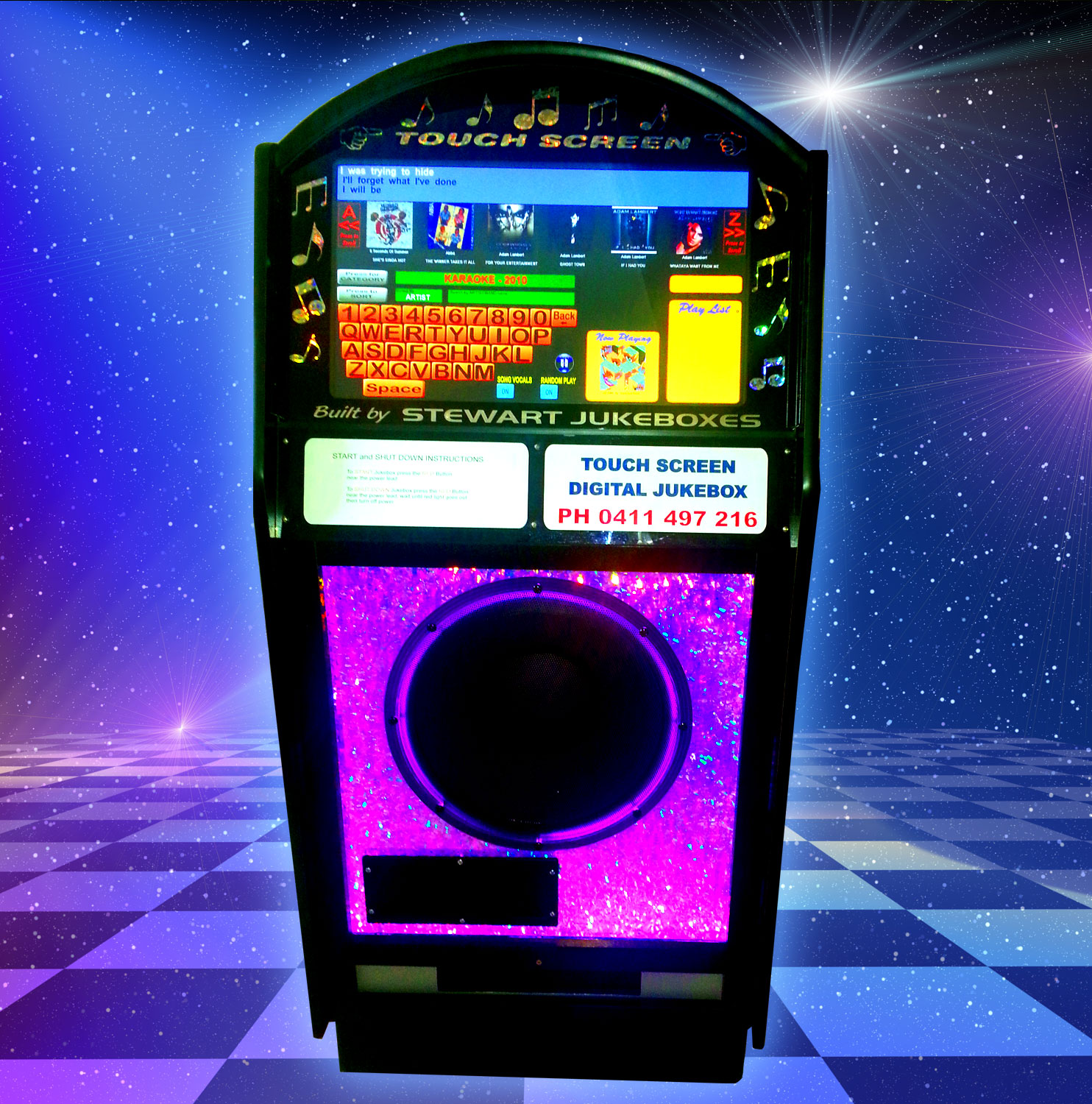 Jukebox Sales, Karaoke Sales - Australia Wide